"Social Media For Business" DVD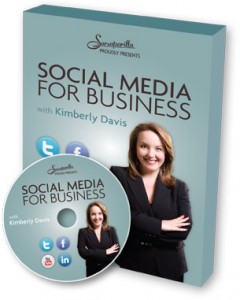 Kimberly Davis delivers the content you need to succeed with your social media. No more tweets about the weather. She'll show you:
10 Ways to turn Linkedin, Facebook and Twitter into powerful marketing and sales tools
Strategies and tools to help make social media easy
Time savers that will allow you to spend just 15 minutes a day on social media
How to integrate Social Media with your other marketing activities
Social Media success stories and how they did it
How social media can fill your database with people who want to buy from you
Actions you can apply TODAY
The Complete Marketing Magnetism System™
The Complete Marketing Magnetism System™ is the only product you'll ever need to attract all of the money, clients, and time you want and more…easily…consistently… and in any economy!
This proven step-by-step guide gives you all of the tools, resources, knowledge and direction you need to reduce stress, avoiding costly mistakes, and create a marketing programme that WORKS!